FAQ: can you sleep on a Private Jet?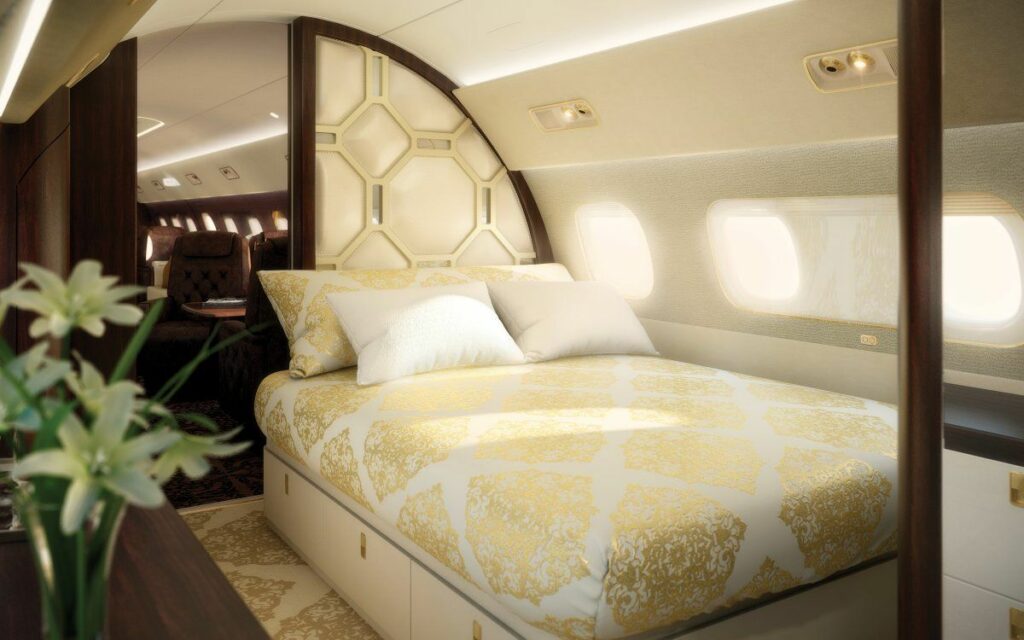 How does the cabin look like on a Private Jet?
How many people can sleep there and how is the bedding organised?
Are the beds on a Private Jet difficult to prepare?
Actually…
There are beds on a private jet.
Like, actual beds and bedrooms as well!
Obviously, the quantities and the features of the beds depend on the type of jet and its dimensions.
The Master Bedroom
Lineage 1000, Global 7500, Airbus Corporate Jet (ACJ) and Boeing Business Jet (BBJ).
These are just a few examples of Private Jets that can have a master bedroom.
The bed in there is fixed, and is always at the customer's disposal.
It is a real bedroom with a wardrobe and sometimes even a private bathroom.
There is a TV and soft pillows to make you have the best night of sleep ever!
The Divan
On other types of jets, such as Global XRS, Global 6000, Falcon 7X there isn't a proper bedroom but one of the portion of the cabin looks like a living room.
Well the whole private jet actually looks like a living room!
There is a divan that can be transformed into a bed and this is the first bed we usually use because it's the easiest one and the quickest one to mount.
By just moving the seats and the cushions, and then adding duvet and pillows will change your idea of comfortable sleeping!
The seats
On almost all heavy jets and mid size jets the seats have the same motion and they can be moved in such a way that two seats makes one single bed.
The motion is the same on each and every jet.
Once the seats are aligned, usually we need to put a mattress on top. And then the bed sheets, duvet and pillows.
Also very comfortable but long and hard to assemble.
It can take from 20 to 30 mins to prepare those beds!
That's why we try to get the information well in advance so we can actually prepare them before the flight.
The conference table
That's the most rare bed we make!
From a big dining table we can make room for an inflatable mattress, like a camping style one.
That bed is the biggest, and usually is for two people.
The credenza
On some jets the credenza is used as a bed.
In particular the latest project of Bombardier that have created a chaise-longue for relax or sleep.
In conclusion, some jets can host up to 5 beds, 7 people on them (two of them are double).
Some others can accomodate 3 to 5 or 6 beds.
There is always room for a bed!