Business Aviation in a nutshell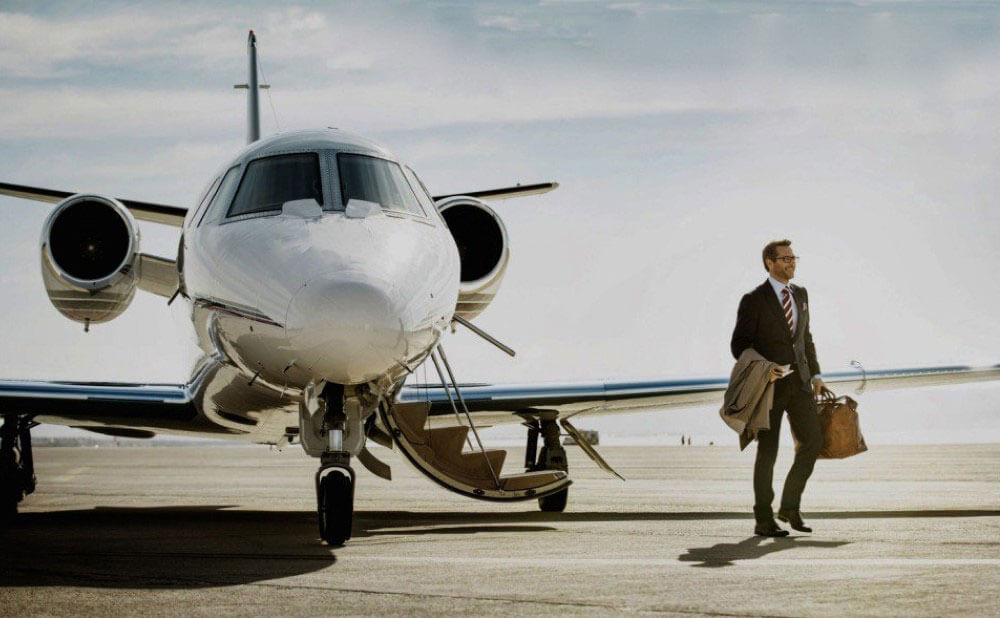 Business Aviation is a service that flies a customer from A to B on board a Private Jet.
It's the same service that commercial airline offer, but the difference is mainly in the flexibility.
With a Private Jet, is the customer who decides when and where to fly and which type of jet should use.
The price they pay will be for the entire airplane, and this includes access to VIP terminals at departure and arrival.
The convenience to walk trough dedicated VIP terminals is that you won't meet many people. In addition, passport controls, customs clearance and security checks will be much faster. 
When those VIP terminals are not available, there is a dedicated path for the customers and crew of the Private Jet. 
The time machine
Often, Business Aviation is linked to a time machine, because Private Jets can create time.
Imagine you are a business man and your organisation has offices in few different places. 
On Monday, you can take your jet early morning and fly from Geneva to London for a management meeting.
Then, enjoy your lunch on board while you fly to Paris to visit the new headquarter and set up the new plan of action for the future months.
After that, relax while your crew flies you back home in Geneva, on time for a dinner with the family. And this is only Monday! 
To summarise, a Private Jet can create time because everything that other people do in a month by travelling with the airline, the customer of a Private Jet can do in one week.
Long haul
Do you need to fly longer distances? Then why don't you set up a late departure, at 10 pm for example.
After having said goodnight to the children, jump on board and have a wonderful night of sleep on the jet while the crew takes you oversea.
You can enjoy your breakfast shortly before landing and be ready for the meetings of the day well rested and full of energy.
Thanks to the flexibility in terms of schedules, the business aviation offer the chance to fly with much more comfort and less troubles. 
Other advantages
Also the airport chosen makes a lot of difference. When you buy a ticket with an airline, you simply get a flight to the airport which is the closest to your destination, and this airport is not negotiable.
Private Jets can take you directly to your destination, maybe at only 10 minutes driving distance or helicopter ride from your home, yacht or office. 
Furthermore, you can decide time by time which airport is more convenient according to your business of the day.
These are just few of the advantages of flying private!