FAQ: Wine and spirits service on a Private Jet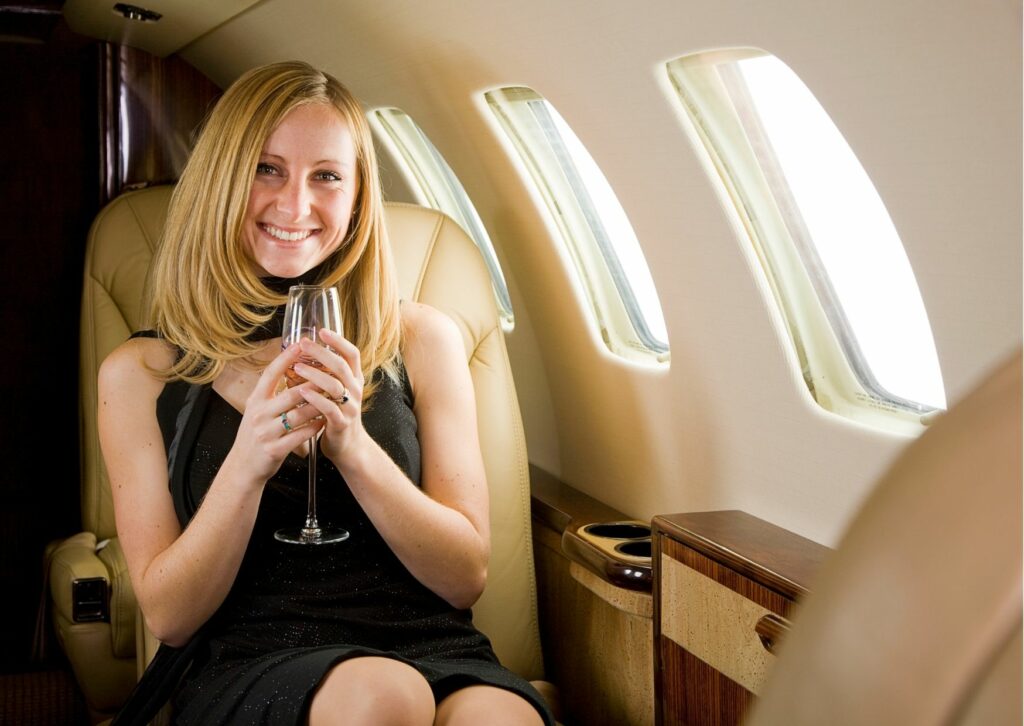 Do you need to be a sommelier to work on a Private Jet?
How do you do wine service for VIP clientele?
How do you serve spirits in a corporate aircraft?
These might be a few questions you asked yourself, related to the job as VIP flight attendant on Private Jets.
I am happy to answer them!
Rule #1: Never stop to be curious
No, you don't need to be a proven sommelier to serve wine and spirits on a private jet.
But you definitely need to know something about them!
That's why you should never stop to be curious…
Search, take part at some wine tastings, investigate, ask.
For a good wine service you need to fist present the wine to your customers.
In oder to do that, you need to be able to read the label!
And in order to be able to read the wine label, you need to know the terminology.
Well, the informations are pretty simple: name of the wine, the producer, the grapes it's made of, the year of production and, if you wish, the percentage of alcohol as well.
Be aware of the effect of pressurisation on the wine
The wines stowed on board a jet are submitted to an unstable temperature.
The change of temperature will change the taste of the wine.
Moreover, the pressurisation in the cabin may also change the taste and have effects on the perlage (bubbles) of the Champagne too.
Because you don't know how that bottle of wine is reacting to pressurisation until you open it, you have better to do that in the galley rather than in the middle of the cabin.
This way, if the cork of the champagne explodes, you hurt no-one.
If the red wine is ruined (you discover that by sniffing the cork), you change the bottle and you save yourself from embarrassment.
Remember that on a private jet we deliver VIP service, but we don't forget we are on an aircraft, and we must take into considerations all the related variables.
As mentioned on another article (https://www.privatejetcoach.com/wine-and-spirits-on-a-private-jet/), the wine list on boar a private jet is very stable throughout the time.
By being curious, you can surprise your customer and create a wine and food pairing that particularly enhance each other's taste.
Would you be authorised to buy a bottle of wine different form the jet stock for a special occasion?
Of course you are!
And the spirits?
If the wine remains the same in months, the spirits will stay the same type forever!
The consumption of spirits is very limited.
Someone enjoy a glass of whisky or cognac after dinner, sometimes you prepare some gin&tonic.
Is your owner passionate of Japanese whisky?
Find out the best chocolate to match with that and offer this instead of the dessert.
Learn what they are made of, their story and origin, what are the good matches in terms of soft drinks or food (whisky and chocolate for example) and how you can best serve them (ice? Water? Serving temperature and glass?) and maybe the music you can add to create the perfect moment!
An example? A glass of Hibiki whisky aged 21 years, with one glass of ice and one of water on the side, a small dish with scale of dark, Swiss chocolate at least 80% (there is also a specific Japanese chocolate to pair with each and every whisky) and some Jazz music.
Add a cigar (yes, sometimes they can smoke on a Private Jet) and soft lightning to this picture and you went already above and beyond!
Ps: be aware that there are also pairing rules for whisky and cigars!
Never stop to be curious…