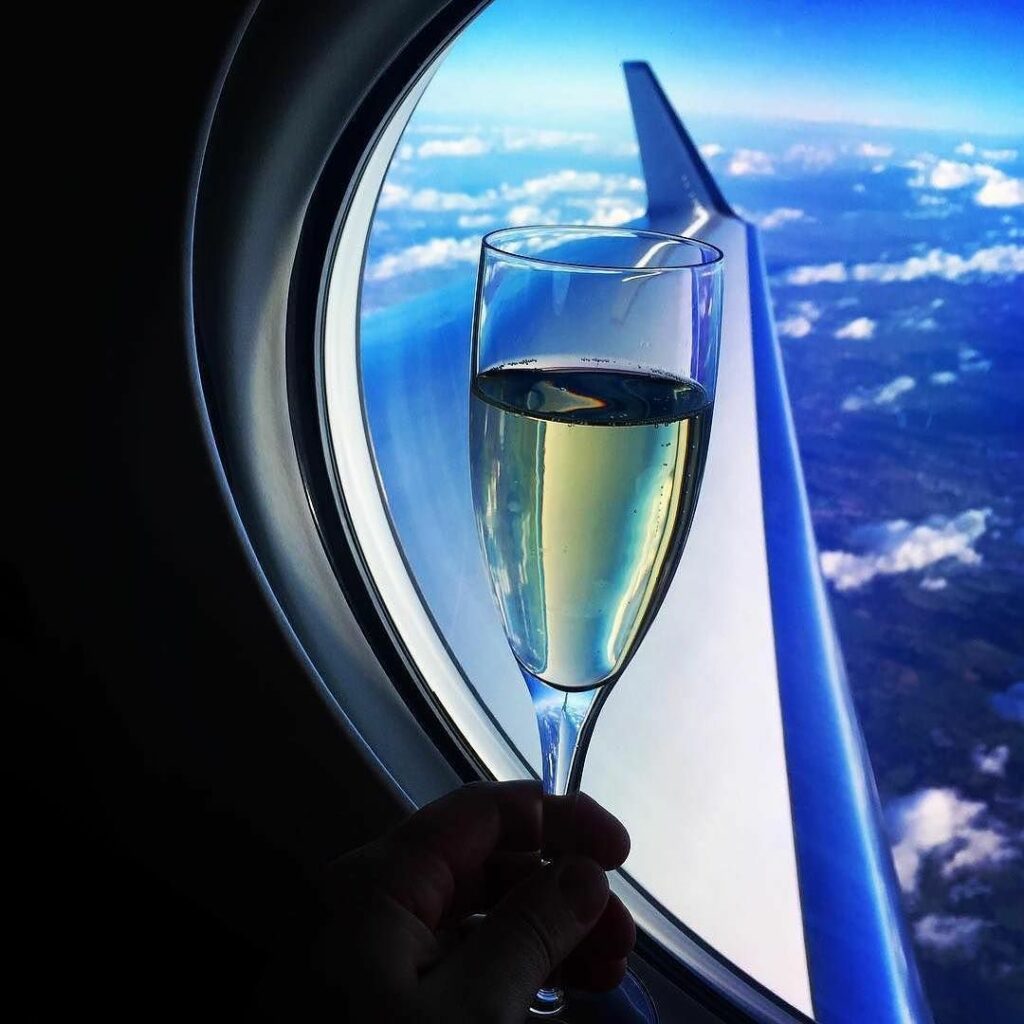 When people come aboard a Private Jet, the idea is that they start relaxing immediately. They should find a cozy and "homy" environment where all their wishes and needs come true. 
Everybody might have a different idea of relax. Wear comfortable cloths, sit down and reading a book, listen to good music, enjoy a glass of wine or spirt….
Depending on the purpose of the flight, alcohol is often present on a Private Jet. Often but not always. I would say that six flights out of then do require an alcoholic drink service.  One of the main factor that defines the consume of wine or spirits is the time of the day and the occasion. 
What type of alcohol do you have on board?
Usually the owner or the Operator chose the wine and alcoholic list, and they change it ever 6 months or even less. In fact, it really depends: I flew once for an owner who had some vineyards in Europe, and on board there were available only the wines coming from his properties. 
The Flight Attendant will familiarise with the wine list, in order to make a great match with the food he/she will order. This is also useful for the service rules of each drink.  
The wine offer on board a Private Jet usually includes one type of champagne rosè, one champagne, one or two types of red wine and one type of wine wine. Several bottle of each one of them are located in the galley, credenza and cargo.
Spritis
When talking about spirits, there will be the most common ones such as Vodka, Gin, Rum, Whiskey, Brandy, Cognac and Porto. 
Champagne is definitely the most consumed alcoholic beverage on board. Immediately after follows the red wine. White wine is more rare and spirits only after dinner, not after lunch.
Cocktails are more appreciated by young customers, and they are usually pretty simple and go after the trends. Now, in 2020, gin tonic is in pole position. Different and less frequent choices are Vodka Orange, Cranberry Vodka, the Vintage Bloody-Mary, or beer. 
Whiskeys, Cognac brandies and similars are all after dinner drink, for meditation or relax. 
In addition to this, note also that different cultures have different drinking habits: South Europeans are more for wines, North Europeans for spirits or beers, Americans drink cocktails, Asians enjoy sake.
In conclusion, because we are VIP, we are supposed to have all the ingredients for any type of cocktail, always. 
But, looking at the practical side, I have never done a Bellini or a Mimosa on board. The most "complicated" cocktail was a Hugo or a Mojito and it happened only once.
How often do you serve cocktails on board?
Which type in particular?