FAQ: how does a Private Jet lavatory look like?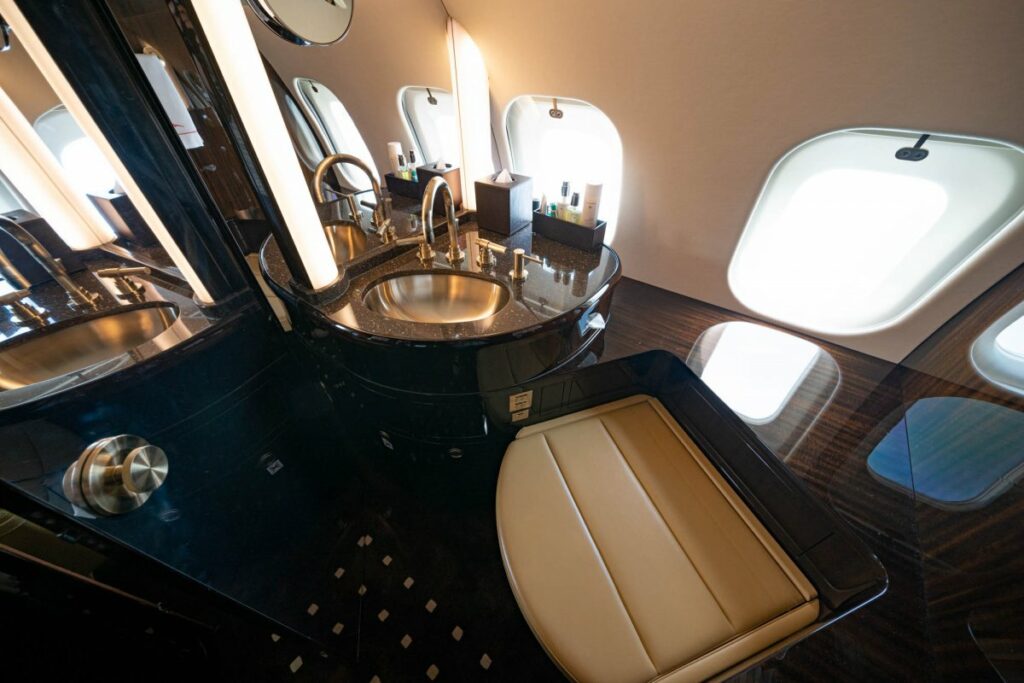 Are you wondering how does a bathroom on a Private Jet looks like?
Considering the elegance and the style that represents the entire jet, the lavatory area is not less elegant nor important.
Well…. There's a toilet!
Indeed there is a flashing toilet, in most cases with a vacuum system that collects the waste into a waste tank.
The waste tank is emptied and cleaned every day, or maximum every two days from the appropriated service provided by the airport. 
There is a wash basin with convenient lightning. 
Usually, the lavatory is located at the back of the cabin and has a sliding or folding door that separates it from the rest of the cabin. 
Heavy jets such as Global 6000, Gulfstream G650, Falcon 8X have two lavatories: one is meant to be for the crew and is located at the front of the cabin.
The bigger one in the rear is the customer's lavatory. 
Some big jets have even a shower, for a home-like flight experience.
Amenities available
 What type of amenities can you find in a Private Jet lavatory?
Basically everything you can possibly have in your home bathroom!
Toothbrush and toothpaste, mouthwash, skin products, hair products, hair brush, har tie, feminine products, infant diapers, socks, pyjamas, slippers.
Sun screen, insects repellent, sticky roll, stain remover, shoe polish, sewing kit, perfume, hand cream, soap, hand disinfectant and much more.
Those products are organised the drawers and the customers have fully access to each and every cupboard and compartment and can take whatever they need.
On the wash basin top there are hand wash products, usually high-end  standards such as Tom Ford, Chanel, Dyptique, Jo Malone etc…
There are also soft hand towels available, nicely rolled in a millimetre-precise style. 
Moreover, a Private Jet lav can't miss fresh flowers!
Lavatory style
The Cabin Hostess has the responsibility to style the bathroom before each flight. 
Everything must be clean, spotless and available in big quantities in each drawer and displayer. 
The attention to the details goes from toilet paper folding techniques to bathroom flower composition. 
Nothing is left up to chance.
The VIP flight attendant must replenish, sanitise and tidy-up after every visit. 
It is also true that the lavatory is a tricky place to keep under control.
This is because the customers can open everywhere (in the whole aircraft in fact) and you might not realise it quickly enough. 
There are specific trainings about how to style and manage private jet bathrooms.
This is one of the most important area for the cleanliness and elegance style of the entire airplane.