The Jet column: Dassault Falcon 7X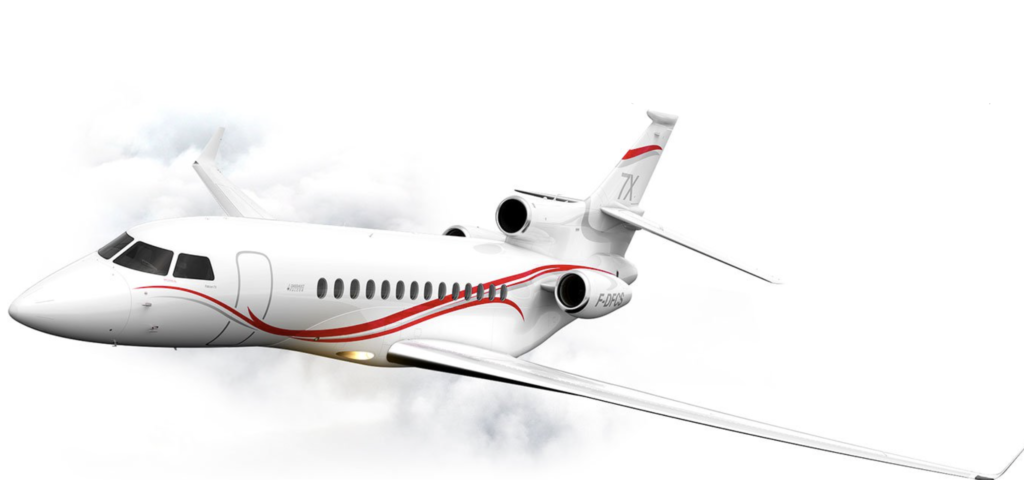 In the world of the ultra-long-range Private Jet, I feel to reserve a dedicated space to the Dassault Falcon 7X.
The French military and business jet manufacture has created many models, and the 7X is a highly appreciated one.
This jet can accomodate between 12 and 16 seats, and its cabin is divided into 3 areas.
The model that I fly has been personalised according to owner's needs and taste.
Exteriors
Long, elegant and agile. This pretty girl has a third engine on the top-end of the fuselage, right in front of the tail.
This jet has the entrance door with a built-in stair.
It can land into small airports with short runways (land and stop in just 630 meters).
Moreover, it can fly ultra long range and connect cities like Paris- Tokyo.
Interiors
Starting from the aft cabin you can find master lavatory with wardrobe and a door that takes you to the cargo area. The door is connected to an audio warning that will sound in the cockpit, so I always inform pilots when I go there.
Immediately after there's the aft cabin. The 7X that I fly has a 3 seats divan and one seat.
To follow, there's the middle cabin with the conference table and the credenza, as usual.
The forward cabin is also standard with 4 seats facing each other and movable in all four directions.
The galley is pretty spacious and it's developing on the left and the right hand side of the corridor.
In front of the entrance door there's also a second lavatory.
That is to say, very often this is used only by crew members or as a wardrobe.
The cockpit jump seat
This Private Jet doesn't have a crew suite, but there's a built-in jump seat in the cockpit behind the right seat, which is pretty comfortable.
Don't get suspicious when you see that the jump seat is positioned sideway: it will perfectly allow you to rest your feet during long haul flights. The good news list that it stays there all the time: no need to mount it and put it back to pass.
The galley has all the equipment: a large oven and microwave, a bar drawer and a chiller.
Although there's the third engine on top of your head, the cabin is very silent and pleasant.
The highest part of the cabin is 1.88 meters and it's provided with 28 windows that enlighten the cabin with a lot of natural light.
In conclusion, the Falcon 7X Very easy to fly on, the space available is large and all the features are comfortable and easy to use.
Source of picture: www.dassaultfalcon.com