The Jet column: Gulfstream G550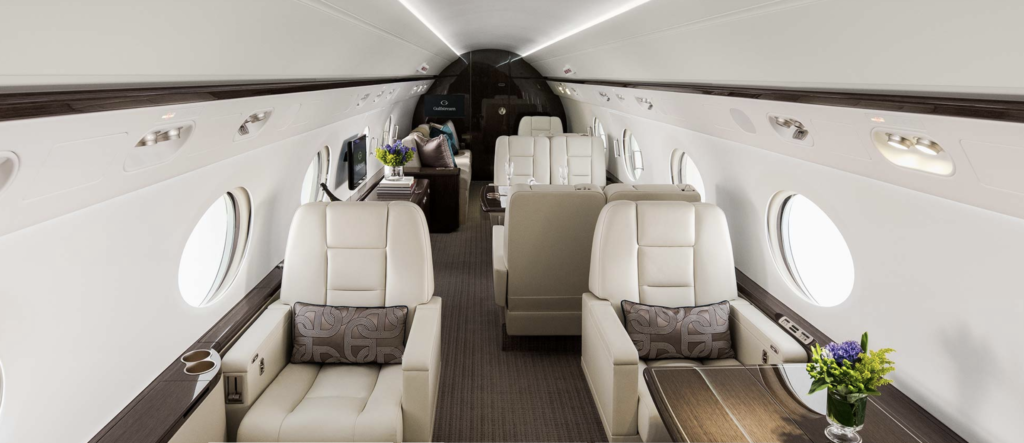 This Private Jet is designed by the American manufacture Gulfstream and is extremely comfortable for long trips. 
Configuration is up to 19 seats and can have ether three or four cabin areas.
The G550 that I flew was very personalised by the owner.
He created a sort of a gym in the aft cabin and had installed a Japanese-style toilet in the lavatory.
A second (crew) lavatory is in the front.
Crew suite
The galley is pretty big, and it develops on the right hand side.
Opposite to it there's the crew suite which is a very useful space and my favourite position for take off and landing.
During long flights with reinforced cockpit crew, the pilots take their controlled rest in the crew suite which can be transformed into a bed.
You'll probably never use that as a bed because the area will be full of catering, boxes, flowers or bags in general.
But still, you can close the door/curtain and have a well deserved privacy and eat a meal seated and relaxed.
Remember to keep the door/curtain shut even when not in use to hide the mess of the crew suite.
Gulfstream panoramic view
The windows are probably the first thing you will notice in the cabin.
Their unusual shape is the signature of Gulfstream and they are recognisable everywhere.
The quantity of natural light that comes in is massive, and the oval line is very elegant and modern.
The galley in the aft
This jet is so versatile that some version can have the galley in the aft of the cabin.
When you board, you will find yourself immediately in the forward cabin with the master seat, then middle cabin and its conference table, then divan and finally the galley, right before the lavatory. 
I worked on this version too, but is not so comfortable because the galley is too far away from the cockpit and you can't do nothing but walk back and forth from galley to cabin.
If the customers are sleeping is even worse.
The galley is equipped with oven, microwave, chiller, Nespresso machine or similar, spacious bar drawer, kettle and even milk foamer.
It has basically everything you need and all the space in the world. Consider that we are still on a Private Jet so space is limited by default!
The cockpit 
The cockpit's technology is designed to excel under pressure and is very reliable. It is equipped with Enhanced Flight Vision System and allows this jet to lend in short runways such as Sankt Moritz.
In conclusion, this is a Private Jet project by born, and it can be personalised in the way the owner likes.
It's so versatile that they can be completely different form one another. 
Probably one of the best Business Aircraft to travel for long and short distances. 
Photo source: Gulfstream.com